Priority Setting Partnership in Major Trauma
What is the Major Trauma Priority Setting Partnership?
This James Lind Alliance (JLA) Priority Setting Partnership (PSP) brings together all involved and affected by major trauma to prioritise the top 10 research uncertainties. We are asking patients, their relatives and healthcare professionals for the questions they want answered by research. We want your views to guide research and to help us improve the care for patients who suffer major trauma. We want you to have a voice in shaping the next generation of research advances in this area.
What will we do with your questions?
We will collect your survey responses and use them to produce a list of priority research topics. We will then ask patients, their relatives and healthcare professionals which of these are most important. Finally, we will inform the people who fund research what the questions are that need to be answered.
What is Major Trauma?
Major trauma, as defined by the National Institute for Health and Care Excellence (NICE), is an injury or combination of injuries that are life-threatening and could be life changing because it may result in long-term disability. This can be caused by many injuries like blunt and penetrating trauma, including (but not limited to) falls, road traffic collisions, gunshots or stabbing wounds.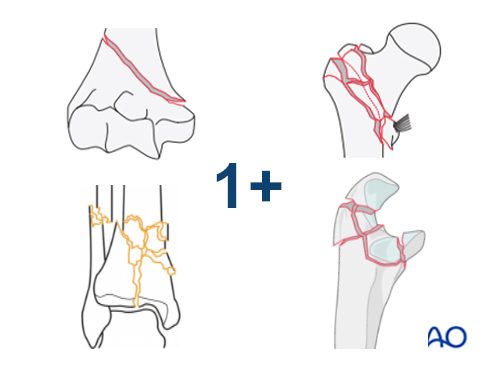 Trauma is a leading cause of death and disability worldwide. In the UK, there are approximately 15,000 deaths caused by accidents every year. Major trauma is a developing field and there is increasing recognition of the significant challenge it poses for healthcare systems and people of all ages. Major trauma is the leading cause of death and a major cause of disability in people aged under 45. Prompt identification and effective treatment of major trauma can save lives, prevent complications, speed recovery and allow an earlier return to active life
The Orthopaedic Trauma Society have successfully promoted trauma research within the National Institute for Health Research (NIHR) through engagement with the commissioning process, where research priorities have been considered and prioritised for major funding. The Royal College of Surgeons and NIHR are now explicitly advocating and funding multinational trials.
Within bone and joint heath there have been 9 commissioned calls in orthopaedics in the last two years in the UK, greatly accelerating the research progress in our field. The missing component in this model is the prioritisation for patients sustaining major trauma. There is increased recognition of the need for multidisciplinary research in major trauma, which spans across multiple different fields.
The NIHR has several streams from which commissioning inputs can be generated – NICE research recommendations, researcher inputs and priority setting exercises. The flagship amongst these is the James Lind Alliance (JLA). The James Lind Alliance is a non-profit making initiative that brings patients, carers, and clinicians together in priority setting partnerships to identify and prioritise the Top 10 unanswered questions for a specific topic. This has been enormously successful in generating commissioned trial calls and is one of the ways that the community have together driven a transformation in the culture of research. 
Crucially, this process will be multidisciplinary and cross specialty. Patients and clinicians from different backgrounds, including emergency medicine, paramedicine, nursing, physiotherapy, general surgery, cardiothoracic surgery, orthogeriatrics, orthopaedic trauma, and neurosurgery will be included. This partnership is unique as it will be conducted with colleagues in Australia, Canada, the Netherlands, South Africa, United States, and New Zealand; raising further the UK profile in orthopaedic research & aligning the outputs with current Royal College of Surgeons & NIHR funding strategies.
The PSP aims is to identify the unanswered questions about the assessment and early management and from patient, carer, and clinical perspectives. These are then prioritised by stakeholders to decide which are the highest priority for future research.
PSP Priorities:
Work with patients, carers, and clinicians to identify uncertainties about the treatment and rehabilitation of patients suffering Major Trauma
To agree a prioritised list of these uncertainties for future research
To publicise the PSP results
To take the PSP results to research commissioning bodies to be considered for funding.
Who is involved?
The following organisations have affiliation with members of the steering group or have been approached to promote the survey.
After Trauma
AOUK & Ireland
Association of Anaesthetists of Great Britain and Ireland (AAGBI)
Association of Carers
Association of Trauma and Orthopaedic Chartered Physiotherapists (ATOCP)
British Association of Occupational Therapists (BAOT)
British Association of Plastic, Reconstructive and Aesthetic Surgeons (BAPRAS)
British Geriatric Society (BGS)
British Limb Reconstruction Society (BLRS)
British Orthopaedic Association (BOA)
British Trauma Society (BTS)
Cochrane
Dayone Trauma
Fragility Fracture Network (FFN)
National Major Trauma ODN GroupPAN
National Trauma Research & Innovation Collaborative
NIHR CRN Trauma and Emergencies Specialty Group
Orthopaedic Trauma Society (OTS)
People in Research
The Association of Surgeons in Training (ASiT)
The British Orthopaedic Trainees Association (BOTA)
The Chartered Society of Physiotherapy (CSP)
Trauma Audit and Research Network (TARN)
TraumaCareUK
Versus Arthritis
Wessex Trauma Network
Royal center of defence medicine
Society of cardiothoracic surgeons
National major trauma psychology network
American trauma surviors network
Orthopaedic trauma association
A&E Staff NIHR emergency care incubator
Canadian Orthopaedic Association
NARSG
Royal college emergency medicine, college of paramedics
Dutch Organisations
Nederlandse Orthopaedische Vereniging (NOV) – Dutch Orthopaedic Association.
Nederlandse Vereniging voor Plastische Chirurgie (NVPC) – Dutch Society for Plastic Surgery
Nederlandse Vereniging van de Spoedeisende Hulp Artsen (NVSHA) – Dutch Association of Emergency Care Physicians.
The PSP is managed by a Steering Group and is chaired by an independent adviser from the James Lind Alliance. The Steering Group includes individual patient representatives as well as clinicians and information specialists.
The role of the Steering Group is to oversee the PSP. They are responsible for a number of tasks, including but not limited to; publicising the initiative, overseeing the checking and collating of uncertainties, and taking the final priorities to research funders.
Patient and carer representative/s
clinical representative/s
James Lind Alliance Adviser and Chair of the Steering Group
Our Project Protocol document outlines the process and sets out the aims, objectives and commitments of the PSP for Major Trauma. It sets out how the project meets the principles established by the JLA. Our JLA Adviser has played a central role in helping the Steering Group establish this protocol and works to ensure that accountability and transparency are maintained throughout the project.
Stage 1 – Establishing the PSP
Steering Group established
Protocol agreed
Partners recruited
Project management and administration arrangements confirmed
Initial Steering Group meeting
Stage 2 – Survey
Initial survey open
Partner organisations disseminate survey to members
Survey advertised
Stage 3 – Data Management
Data management protocol agreed
Survey closes and all questions are captured
Out of scope questions removed and collated
Duplicates combined
Questions grouped by theme and arranged in a research question format
Existing research checked
Results and process reviewed by Steering Group
Stage 4 – Interim Prioritisation
Interim prioritisation survey designed and open
Prioritisation analysis conducted
Shortlist of unanswered questions produced for final prioritisation
Stage 5 – Final Prioritisation
Workshop attended by partners and partner organisations
Top ten unanswered research questions agreed by consensus
Patients, carers, family members and healthcare professionals
If you:
have ever sustained a major trauma
are a family member, or carer, of someone who has sustained a major trauma
have an interest in major trauma
…we want to hear from you.
Charities and organisations
If your charity or organisation serves people who have experienced a major trauma (as described above), we hope that you will sign up to become a supporting Partner of this PSP. For more information about joining the Partnership, please contact us.
Whether you are a Partner or not, you can also:
promote the PSP Major Trauma to your members via e-mail, or at events
mention the PSP in your next newsletter or blog
What is the James Lind Alliance?
The National Institute for Health Research (NIHR) funds the infrastructure of the James Lind Alliance (JLA) to oversee the processes for Priority Setting Partnerships (PSPs). More information can be found at jla.nihr.ac.uk.
How did the Partnership come about?
This PSP came together in collaboration with AOUK and the Orthopaedic Trauma Society. We approached the James Lind Alliance, who are providing expertise in PSP methodology.
Who is involved in the Partnership?
Organisations and individuals have been invited to join the PSP representing the following groups:
Patients who have sustained a major trauma
Carers who look after someone who has sustained a major trauma
Medical doctors, nurses and other health professionals with clinical experience of major trauma
Can other organisations still get involved?
We need to make sure that people know about the opportunity to take part in the (inter)national surveys and learn about the results of the project, and that funders are made aware of the Top 10 priorities. You can help by promoting the surveys and, at the end of the project, disseminating the report.
How can organisations and the public find out more?
What do you hope to achieve?
We hope to identify the unanswered questions about major trauma from patients, carers and clinical perspectives and then prioritise those that all three groups agree are the most important. Our objectives are to:
Work with patients, carers and clinicians to identify uncertainties about major trauma,
Agree by consensus a prioritised list of those uncertainties, for research,
Publicise the results of the PSP [and process],
Take the results to bodies that commission research to be considered for funding.
How long will the project take?
We hope to have finished by early 2023.
How many survey responses are you hoping for?
As many as possible. Previous PSP surveys in other fields have achieved anything from a few hundred responses to several thousand.
Is my survey responses confidential?
The information that you give will be anonymised (so your name will not be published and you will not be able to be identified from what you have told us).
How is research currently funded and prioritised?
Researchers and research funders predominantly determine which areas are researched. Often this is done with reference to current literature – to identify where the gaps in knowledge are. This is sometimes done with input from patients, carers, and health and social care professionals – although never in such a thorough and systematic way as will be achieved through this partnership. The PSP process will uniquely combine the input of patients, carers and clinicians with a search of the literature.
What are the "Top 10" research priorities?
These will emerge from an interim prioritisation survey and subsequently a final workshop.
What will happen to the "Top 10" questions?
The "Top 10" questions will be publicised and discussed at events where research funders will attend. The PSP will work with its stakeholders and Partners to raise awareness of the priorities and try to get them funded as research projects. The questions will be considered by the National Institute of Health Research (NIHR) and other funding organisations when commissioning research.
CONTACT US
This PSP is managed by Chris Bretherton, who is based at Oxford Trauma, University of Oxford. You can contact him on the following: